How to pay annual subscription fee
Go to User Admin. Click on User Info tab/ Annual subscription.
A billing info box will appear. Enter your information in all boxes. Click Next.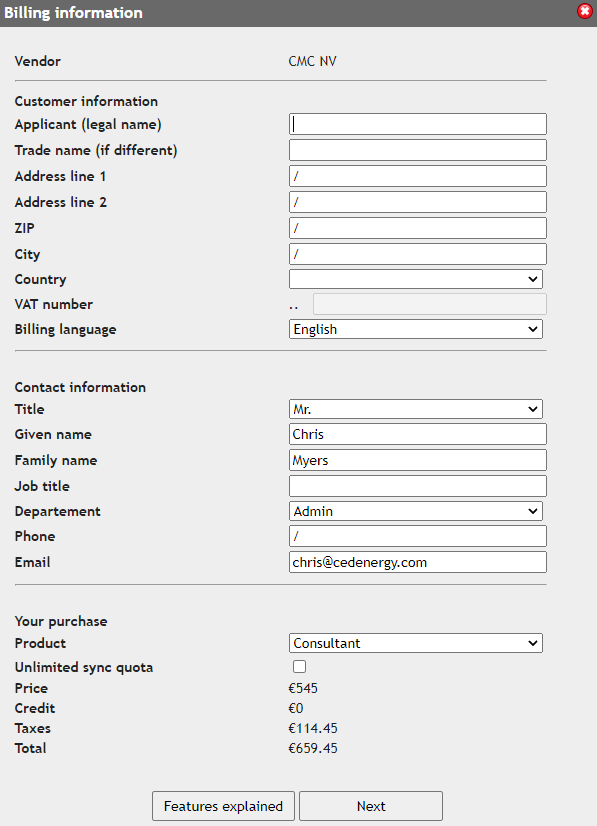 A payment page will appear. Enter your debit/credit card info.

Please note that for American Express card, the security code is the 4 digits on the front of the card (unlike other credit cards which has 3-digit security code on the back).
Related Articles

Do I need to pay to use SCADAR.NET?

SCADAR.NET is designed to provide audit features free of charge, so NO, any user account is classified as an 'AUDITOR' account and it can be used continuously, free of charge. As SCADAR.NET has developed, we've placed additional emphasis on ...

Simulation type 'Annual' and 'Time span' sub tabs

Within the 'Simulator' page there's a tab that corresponds to each Simulation type and quantity configured in the Simulator Wizard 'Landing' page. In the example below our 'Simulation collection' consists of just 1 'Supply side calculated flow' ...

How to export data to Excel?

Go to the User Info page by clicking the icon next to your name in the top right hand side of the screen. On this page choose Audit Management (magnifying glass icon) and select the audit that you want to export data. Click on Export Audit Data as ...

The Simulation Report PDF 'Annual Simulation collection'

Simulation Reports consist of a 5 page PDF. Where more that 1 Simulation has been included in the Print PDF file, Reports are sequentially included within the PDF. As an example, a Simulation Report PDF containing 2 Simulations can be downloaded ...

V17 release notes

Features License: Fee bearing auditor - Changes to subscription rights and access Audit: Add ZIP code to audit analysis - Added the audit location zip code to the audit analysis worksheet of the site info excel export. Bugs Simulation Wizard: ...